Diesel Fuel Test Kits
Diesel fuel test kits – check for water & other contamination. Low cost & fast results can be obtained. Our fuel test kits are very useful in diagnosing the level of contamination in diesel fuel. Two tests in the one kit that will show you if sediment, algae, foreign materials, sludge, rust or water is present in your diesel fuel. Make an more info here on the diesel fuel test kits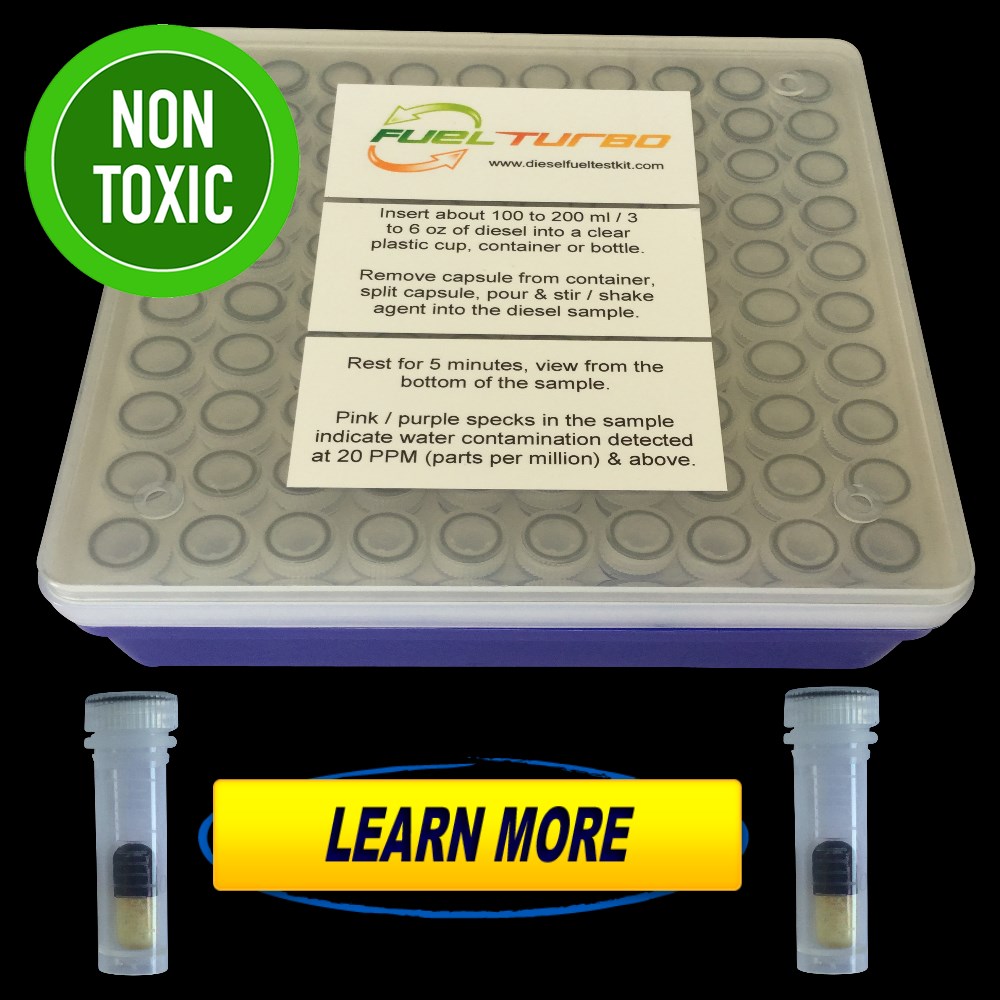 Water detection – visual analysis – contamination check. Visual results in 5 minutes – easy to use test kit.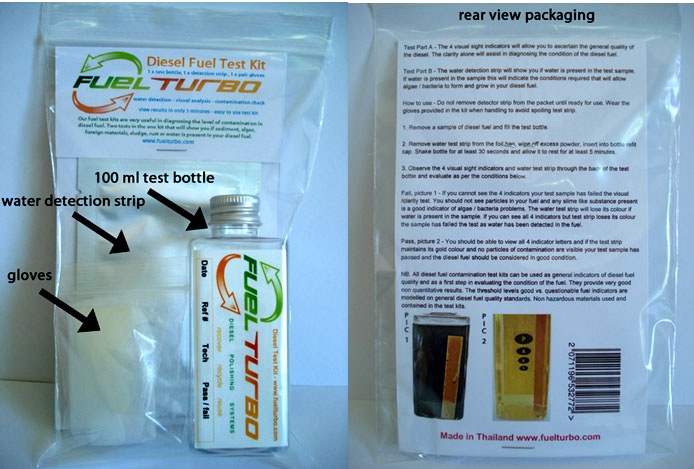 Diesel Fuel Test Kit Part # FT 1 – Special prices for all orders of 20 units or more.
Payment by PayPal for small orders or wire transfer for large orders – please include your complete name, company name if applicable & address when you email us here. We will then send a quote / invoice to you for payment processing.
Each test kit is individually packaged in a zip bag for in-house workshop / service department, customer use or retail counter sales. User instructions are on the back of the packaging. The kits can be used as an additional sales up-sell item when vehicles or equipment are serviced.
Show owners the condition of their fuel or they can be used as part of your own equipment / facility maintenance program. Test results of algae / water or other contamination found can assist into selling the customer fuel additive products to help stabilise / improve clarity / break down water in the fuel or the need to change filters / undertake additional service items etc.
Test Part A – The 4 visual sight indicators will allow you to ascertain the general quality of the diesel. The clarity alone will assist in diagnosing the condition of the diesel fuel when the indicators are viewed through the back of the bottle and the sample is checked for visual contamination.
Test Part B – The water detection strip will show you if water is present in the test sample. If water is present in the sample this will indicate the conditions required that will allow algae / bacteria to form and grow in your diesel fuel.
New Version of the Diesel Fuel Test Kits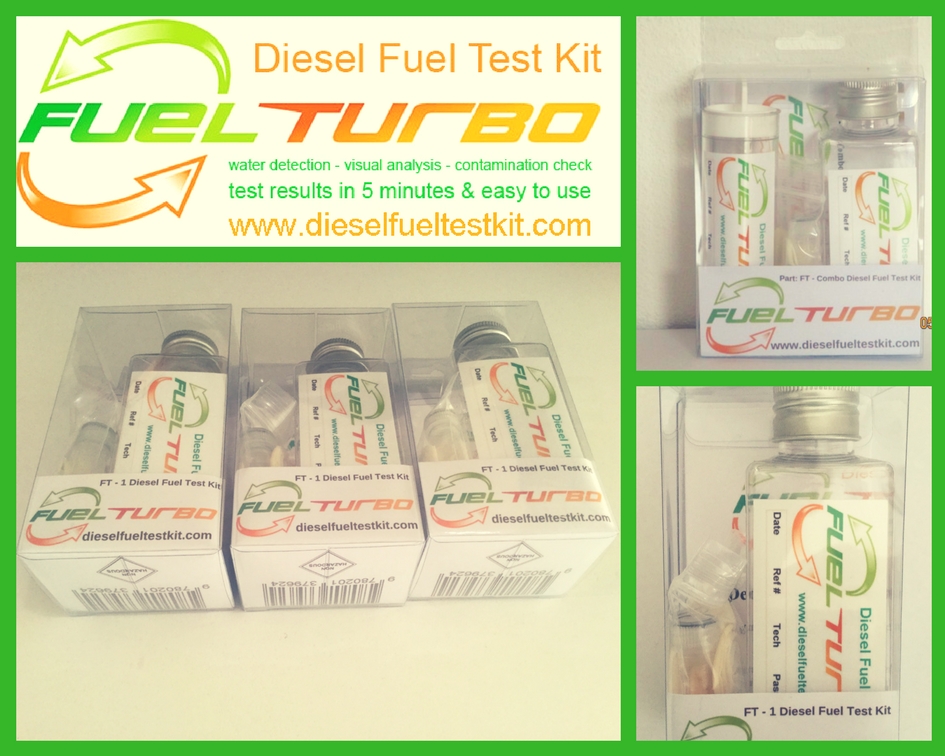 How to use the diesel fuel test kit.
Do not remove detector strip from the packet until ready for use. Wear the gloves provided in the kit when handling to avoid spoiling test strip.
1. Remove a sample of diesel fuel and fill the test bottle. Fuel can be taken from a filter drain, old filter contents or tank access point.
2. Remove water test strip from the foil bag, wipe off excess powder, insert into bottle refit cap. Shake bottle for at least 30 seconds and allow it to rest for at least 5 minutes.
3. Observe the 4 visual sight indicators and water test strip through the back of the test bottle and evaluate as per the conditions below.
Fail, picture 1 – If you cannot see the 4 indicators your test sample has failed the visual /clarity test. You should not see particles in your fuel and any slime like substance present is a good indicator of algae / bacteria problems. The water test strip will lose its colour if water is present in the sample. If you can see all 4 indicators but test strip loses its colour the sample has failed the test as water has been detected in the fuel.
Pass, picture 2 – You should be able to view all 4 indicator letters and if the test strip maintains its gold colour and no particles of contamination are visible your test sample has passed and the diesel fuel should be considered in good condition.
NB. All diesel fuel contamination test kits can be used as general indicators of diesel fuel quality and as a first step in evaluating the condition of the fuel. They provide very good non quantitative results at a small cost. The threshold levels good vs. questionable fuel indicators are modeled on general diesel fuel quality standard observations. Non hazardous materials used and contained in the test kits.
Should you have what looks like slime in your fuel you more than likely have some bacterial problems in your diesel fuel, the recommended test is the microbial diesel bug fuel test kit.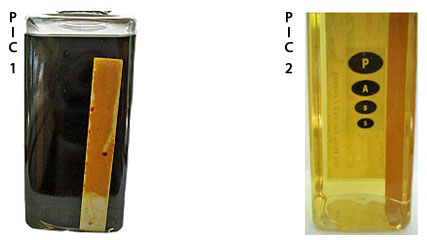 Field Test kits for diesel fuel: FAST – CHEAP – EASY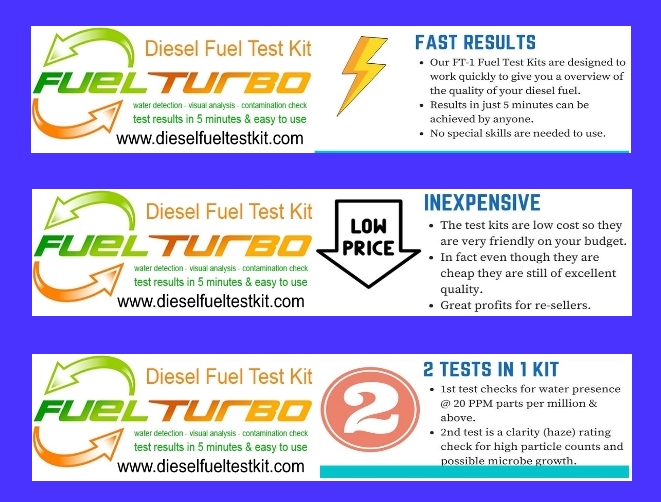 Diesel Fuel Test Kits Shipping to USA