Benefits
How would you like to be your own boss and work the hours that suits your lifestyle?
If you have a service business already, how many of your present customers could you sell this added service to?
Do you have your own equipment workshop or manage one, how much of your equipment fleet could benefit from having quality clean polished diesel fuel at all times?
The FuelTurbo mobile fuel polishing system may be just what you are looking for if you answered "yes" to any of the above questions.
Prevention of Diesel Fuel Contamination Problems
Low cost, limited maintenance, great returns and terrific results. The system can be transported from site to site in the back of a small van, utility truck, trailer or simply used at your established business, workshop or marina facility. The great news is you don't need any specific technical knowledge about diesel engines or various types of diesel powered equipment. The profitable business of fuel management is necessary for all diesel powered equipment.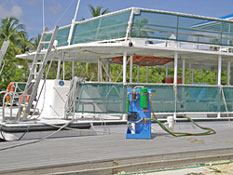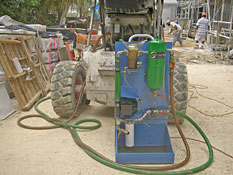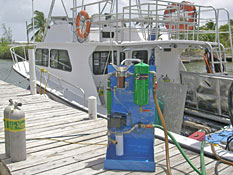 Diesel Fuel Quality Management 
All diesel engines are exposed to problems when they are supplied poor quality fuel. Even if the fuel is run through the engine regularly the stored fuel in the fuel tank is sitting and degrading. Any tank that holds diesel fuel should be tested and put on a regular maintenance program. Fuel management programs focus on extending the life of diesel fuel during storage and increasing reliability of equipment.
As part of a good maintenance program owners and facility operators should adopt a regular schedule of diesel fuel testing to proactively detect problems and correct them before there is an issue. Owners of diesel equipment would be amazed at what's in there tank, the facts are if you take a fuel sample from a diesel tank you will find some form of contamination in about 90% of tests.
Easy to Use, Low Cost Diesel Polishing Unit Filters
You will probably find very limited diesel fuel cleaning polishing competitors in your local area and especially anyone near boats will be able to polish and clean marine diesel tanks also. The only consumable materials needed to operate the unit are the spin on filters. You don't need to get the filters from us, we provide the part #'s so you can get get from your local Baldwin, Donaldson, Wix or Fleetguard dealer.
Full details of the operation procedure are contained in the literature provided with every FuelTurbo unit. The booklet we provide "the insider secrets too fuel polishing" explains how to sell and market the service.
Turnkey Package – Use Right From the Box
The FuelTurbo system is a complete turnkey package straight out of the box, it can be used on any of the equipment and more listed below. Everything is provided with the unit and additionally we even supply free fuel test kits and filters to get you up and running cleaning diesel fuel. These test kits are the best in the market for field service diesel fuel testing.