Bacteria, Algae, Microbes, Water and Fungus Diesel Fuel Test Kit
The FT-Combo diesel fuel test kit has been developed by diesel engineers as a simple test to check for problems before they get to a level that is hazardous to your engines fuel system. The test components are safe to use and non-toxic. Kits come with nitrile gloves and full instructions, just get a sample of your fuel and get testing in minutes!
Test Kit for Diesel Fuel Bacterial Problems
The FT-Combo is 2 separate tests in the one kit.
Part A of the kit checks for water in your fuel at levels of 20 PPM – Parts per million and above. The other check in part A is a haze rating analysis of your fuel which is a general indicator of fuel quality which Caterpillar uses in its testing benchmarks. These tests takes just 5 minutes to complete.
Part B of the kit is a dip-slide tester that has been specially designed to check for bacterial fuel problems like bugs, algae, microbes and fungus infections in your fuel. This test takes usually about 12 to 24 hours to complete. The dipslide has two different gels to check for all known common diesel bugs found in fuel. You just swipe or dip the paddle in some fuel, wait at least 12 hours and compare paddle to the analysis charts in the box to identify fuel bug types.
These above tests can be completed by anyone with no special training or tools required. 
Front and Rear View of Diesel Test Kit
Do you suffer from – Clogged, Dirty and Slimy Filters or?
Dark, discoloured or hazy fuel
Filters being changed too often
Floating contamination and debris in fuel tanks
Sludge and gunk build-up in fuel tanks
Lack of engine power and low RPM
Excessive exhaust smoke and emissions
Corroded, pitted, damaged fuel injectors and pumps
Strange odours coming from fuel tank
Excessive fuel system repair bills
If you have the above problems it may be time to test your diesel fuel for issues. Don't wait for a bigger problem. Learn more about these easy to use diesel fuel bug test kits.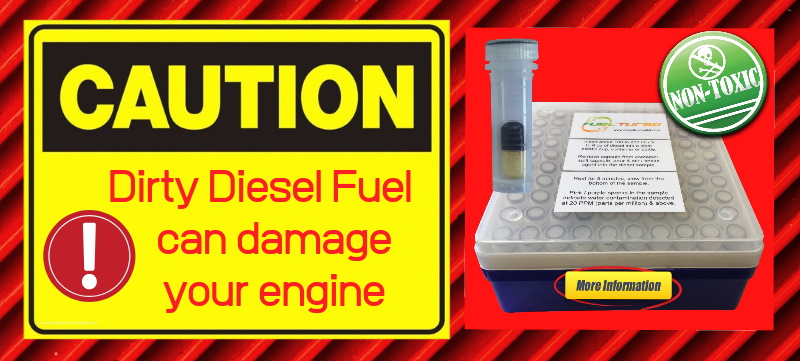 Application uses of these bacterial and water detection test kits
The common and suggested uses for these microbial test kits include:
Marine vessels and boats including pleasure craft and transport work equipment
Equipment and construction gear
Small vehicles including cars, pick-ups, vans, light vehicles and RV's
Transport equipment including trucks, buses and any other diesel vehicles
Power generators, fuel tanks and equipment for emergency power applications
All other diesel fuel storage tanks and bunkers
Rear View of Diesel Fuel Test Kit
NB – "best if used by date" on bottom of box will be at least 5 months up to 7 months from ship date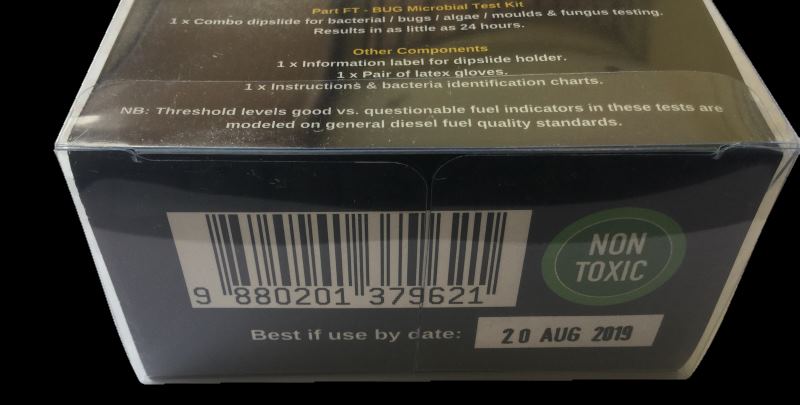 Fast results and inexpensive to use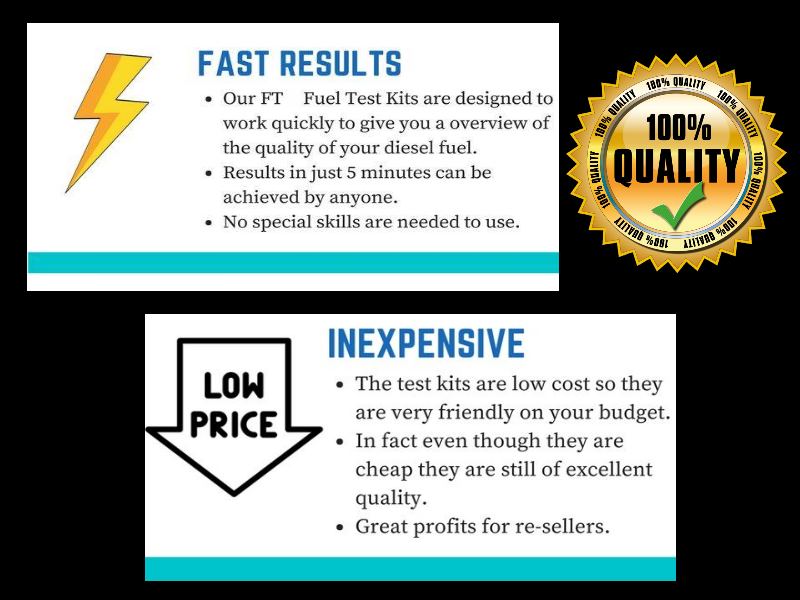 Diesel Fuel Testing – A Bucket List Item
Diesel fuel by design is an unstable liquid that goes "off" over time. Your local fuel seller will generally always provide you the best fuel that is available. However, due to a large number of variances the fuel may have started to go "off", become oxidized and/or even may contain traces of water. So, this new fuel may have been tainted before it was delivered to you or to your supplier.
Diesel fuel has to be transported from the refinery to the customer location. It is often moved and pumped through hundreds of miles of pipelines, could be barged or moved on the water in ship tankers, or trucked and stored in tanks at storage sites under poor conditions.
Movements in the ambient temperature throughout any given day or night and exposure to the atmosphere will allow condensation and water to develop in fuel storage tanks which will ingress into the fuel. As a combined result fuel quality diminishes dramatically even before you have pumped it into your tank and then the real punishment of your fuel happens with this fuel.
When diesel fuel is finally in your tank it is exposed to the heat and pressure of engine combustion, fuel injection systems, high pressure pumps and plumbing as it recirculates constantly around the fuel loop in your system, this further degrades its quality.
The Good and The Bad Diesel Fuel
Fuel is manufactured to a high degree of specification and diesel engines operate and function to this spec, what an engine consumes fuel wise will dictate how they perform just like human being in many ways.
When fuel does not meet these exact spec requirements needed, we can refer to it as "off fuel". Generally speaking, we refer to fuel as "off fuel" when we notice these symptoms, like dis-coloured or hazy fuel, traces of slime and algae in fuel, excessive fuel filter blocking, gunk and sediment build up in tanks, low engine performance, too much exhaust smoke & above acceptable emission levels.
We often refer to diesel fuel as "good fuel", when it is transparent and shiny. When it is in this condition peak engine performance is a given, if only things were always this good.
Dark fuel is a tell-tale of poor quality, usually in most events, it still can be used as it really takes a lot to hurt the average engine.
Dark fuel is in tell-tale of oxidation and degradation and cloudy fuel is tell-tale of water emulsified in the fuel. Peak engine performance will suffer and further degradation will happen if fuel maintenance is not performed at this stage.
Please note that fuel in this above condition will give poor fuel combustion, filtration headaches, and engine component failure that is going to cost you plenty in terms of repairs and downtime.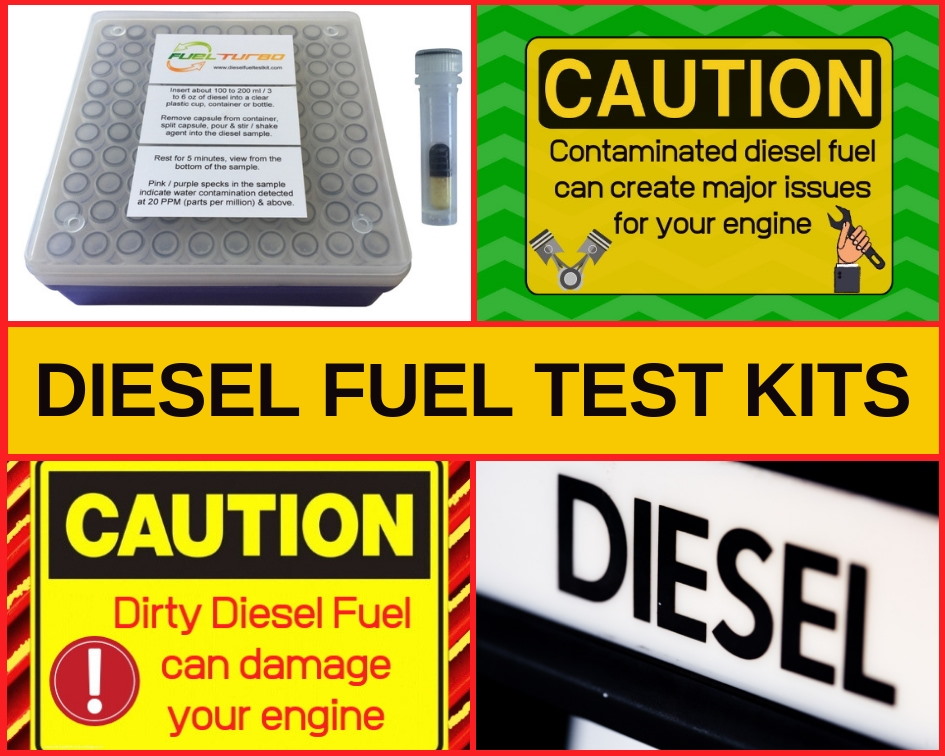 Diesel Fuel Maintenance Programs
No matter if you have just one diesel engine in your care or you are responsible for hundreds of diesel-powered machines and equipment, the need for a diesel fuel care program is a must-do bucket list item.
The addition of regular fuel testing into your preventative maintenance program is a must do requirement, remember your diesel engine is only as good as the fuel that you feed it with.
Safe to use – non toxic – stop problems early